Professional Voice Prompts Make a Huge Difference
A great phone system is the first step to make the best impression on your callers from the very first second. To provide the perfect experience for your customers, professional voice prompts are just as essential. Just think about this: would you rather have the grumpy engineer from the tech department answer your phone or a professional radio presenter?
One Voice, Endless Possibilities
Every business is different. Custom voice prompts give you what standard prompts can't give you – uniqueness. Maybe you simply want a friendly voice that says hello whenever somebody is calling your business or perhaps you are working with a complex voice menu to lead callers to the right department. Since all of our prompts are custom recorded for you, anything is possible – from voice prompts for Auto Attendant, IVRs, Holiday Greetings, On-hold up to Voicemail.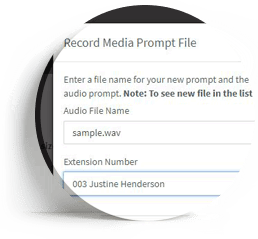 Quality Production, Consistent Quality and Fast Delivery
We have teamed up with a group of talented female and male voice artists, all of which have a background in radio or voice branding. Prompts are available in German and English with a turnaround time of three working days. If you need help with the scripting, take a look at our examples.
Swing With Me – Custom Music-on-Hold
Making your clients wait more pleasantly is so easy. It all starts with a good track, but it doesn't have to end there. Make use of announcements during the waiting time to inform your customers of special offers or new services. You can even have different tracks and let your customers choose.